Adaptive Roofing Repairs and Installs Solar Panels in Atlanta
Professional Solar Panel Installation Services
We may not be the sunshine state, but Adaptive Roofing knows the benefit of having solar panels on your home during sunny Georgia days!
Installing solar panels on your home can provide many benefits, including cost savings, environmental benefits, increased home value, and energy independence. Finding a solar panel installer can be a difficult task, but our Adaptive Roofing team has the expertise and knowledge to make your home more energy efficient quickly!
Already have solar panels that need to be repaired? Our team can help get your system back up and running in no time and have your home producing energy again quickly!
Fully Licensed & Insured
Locally Owned & Operated
BBB Accredited Business
Call us today to learn about all of the services we provide regarding solar panel systems.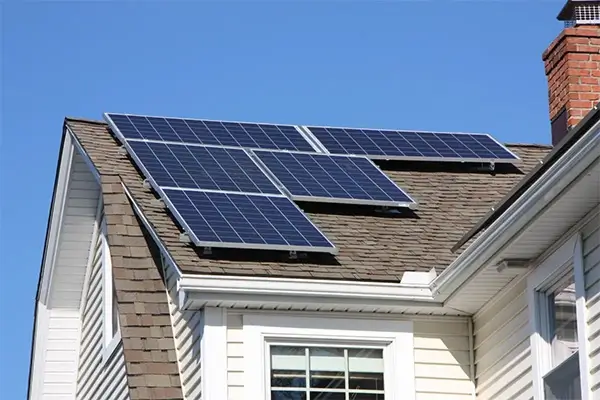 Frequently Asked Questions
Not every home is eligible for solar, so cross your fingers. Let's hope you're one of the lucky ones and you can save money. There are three main factors:
Number one is called "sun exposure" - does your roof (or the location of your solar panels) get enough access to the sun? One of the things we'll do is analyze your sun exposure from satellite images and other technology to make sure that you've got what's called "proper solar access". There's a percentage we're looking for which, as long as you've got that, you're good to go.
Number two is orientation. What direction would your panels be facing? Ideally, we would want the panels facing South or West, since that is where the most sunshine hits. So you're looking for the right sun exposure; you're looking for the right orientation.
And then there's just number three. Are there any structural issues with your house or roof that would make it difficult to mount solar panels? And if it turns out that it doesn't work for solar, no harm done, you got educated, and you know it is what it is. But that's the reason why I encourage you to reach out and get a no-cost proposal from us so we can actually do the hard work of analyzing your property and show you exactly how much money you can save by going solar.
So what happens when you sign an agreement to go solar with us? Actually, the agreement is the hardest part! Once you sign your agreement, we do the rest. We will assign you a dedicated project manager that will keep you posted through every step of your project.
First, we will schedule your site survey. Next, we create the design that gets submitted to the City to receive a construction permit. Once the permit is received, we schedule your installation, which typically takes 1-3 days depending on the size of your system. After we finish installing the solar system on your house, we schedule the city inspector and/or your utility company to approve the installation and give you what is called "permission to operate", or PTO. Once you have PTO, we power on your system, and you can enjoy clean power for your home from sunshine. The whole process typically takes 30-60 days. However, much of that time is simply waiting for permits, inspectors, and the like.
Providing commercial and residential roofing services near you
Serving Atlanta, GA and the Surrounding Areas
Atlanta
Red Oak
Loganville
Conyers
McDonough
Jonesboro
Tyrone
Palmetto
Fairburn
Peachtree City
Ellenwood
Lawrenceville
Douglasville
Alpharetta
Roswell
Marrieta
And All Surrounding Areas